Robot Arena inspires curiosity in children and creativity in adults.
Trying to make a robot, having fun in a contest, conducting research, launching a new business:
Everyone including elementary students, college students, other citizens and experts, can foster their interest in robots at this space.
6-faces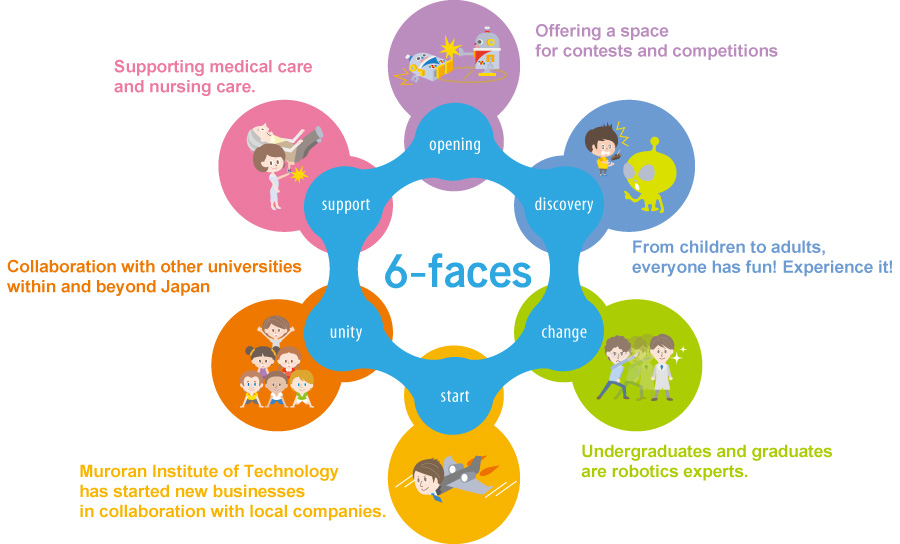 Offering a space for contests
and competitions
Robot Arena holds the Muroran Institute of Technology Presidential Robot Soccer Contest once a year and offers a space for various other events. Robot Arena is where visitors who make, operate and watch robots can all have fun. The comforting seal-shaped robot and our robotics specialists await your visit.

From children to adults,
everyone has fun! Experience it!
In addition to the Lego/Mind Storm School and the Robot Assembly School, which are held every month, we hold holiday events in summer and winter, such as those in the electric handicrafts category and the easy handicrafts category. Our staff members support you kindly and thoroughly, so that even elementary school students who have never touched a robot can enjoy making and controling a robot.

Undergraduates and graduates
are robotics experts.
Expectations are high for the robot industry to support the Japan of tomorrow. Robotics, which is key to the improvement of the robot industry, ranges widely from mechanical engineering to electrical engineering and electronics to information technology. Muroran Institute of Technology has developed the Robotics Educational Program, which enables students to learn robotics systematically. In addition, aiming to become experts in robotics, undergraduates and graduate students are actively working on their own research and development.

Muroran Institute of Technology has
started new businesses in collaboration
with local companies.
Japanese companies are addressing various issues, such as safe, comfortable, convenient living, environmental conservation, and energy saving. We see throughout Japan a movement to expand business opportunities by adding the ideas and knowledge of researchers to company projects. Aiming at promoting regional contributions and the popularization of robot technology, Robot Arena provides chances for industry and academia to meet, and assists researchers and companies invested in their research in exchanging information and launching cooperative studies.

Collaborating with other universities
within and beyond Japan
With the cooperation of Otaru University of Commerce, Sapporo Medical University, Health Science University of Hokkaido and Chitose Institute of Science and Technology on studies with robot-related themes, Muroran Institute of Technology is fostering professionals who have high-level specialist knowledge. Muroran Institute of Technology has accepted short-term trainees from Mexico and has held a seminar with Chiang Mai University of Thailand. Based on Robot Arena, Muroran Institute of Technology is going to expand exchanges with other universities so that each can make the most of its characteristics and develop new studies or industries.

Supporting medical care
and nursing care
The most eagerly anticipated applications of robots are as tools to make nursing and care-giving easier and to support the physically handicapped. Researchers and working groups at Muroran Institute of Technology are actively developing a home medical checkup support robot, tailor-made artificial arms and so on. Society is placing particularly high expectations on these studies. Why not experience these advanced technologies?